Examples Feng Shui garden concepts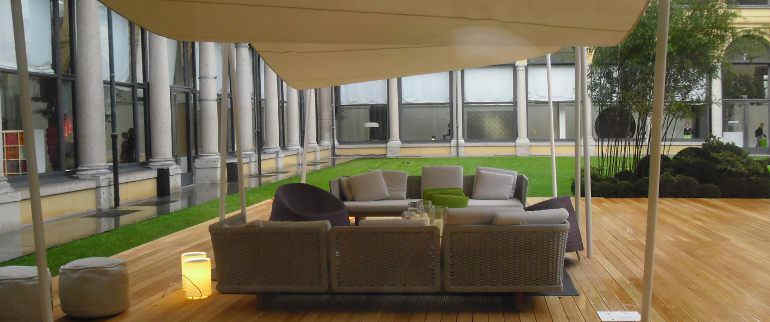 We want to illustrate by means of implemented projects that Feng Shui landscping is extremely complex. A good concept arises on the basis of the energetic structure, which is then designed. Many details have to be tuned so that a garden is not just a collection of plants, but a designed space.
Feng Shui garden concepts are full of details
To turn a green space into a garden, a structure is needed that we develop from the local forces and the needs of our customers. There are also many other aspects involved that play a role. The color of flowers at each location, the energetic quality of materials and also the personality of our customers.
First example: three professions - three design approaches
How an architect, a landscape gardener and an Imperial Feng Shui consultant plan a front yard.
One older house was extended and renovated, the requirements of the front yard were:
- Delimitation of the road, as there is no sidewalk
- Space for the dustbin
- Connecting to the rear garden
- Attractive appearance
Conclusion
The garden design with Imperial Feng Shui looks attractive, is more favorable than the plans of architect and landscaping gardener, and makes a significant contribution to the energy upgrading of the property. This difference can be felt. Please find the concept in English here.
Example 2: a Feng Shui garden compensates for unfavorable site conditions
- The property has a difficult, tubular shape right at a main road
- The previous garden is an unstructured collection of incompatible plants
- The materials are a wild mix
- The position of the welll is actually favorable, a lucky coincidence
- The new garden should bring peace and stability and require low maintenance
For this project we were commissioned with the design and project management. The client wished for a complete and harmonious solution. Except for some hedg plant nearly all plants were removed, excavation work was carried out and our recommended plant choices were implemented.
Conclusion
A difference like day and night, with manageable costs and very low maintenance effort. A complete solution is usually much easier to design than integrating many, old elements.
Do you also feel like changing something in your garden? We are happy to advise you, without obligation. Call us at 069.42603751 or write us a mail to This email address is being protected from spambots. You need JavaScript enabled to view it..